Evolution of MemInfo
THE SOFTWARE DOWNLOADED FROM THIS PAGES ARE PROVIDED "AS IS" WITHOUT WARRANTY OF ANY KIND. THE AUTHOR DISCLAIMS ALL WARRANTIES, EITHER EXPRESS OR IMPLIED, INCLUDING THE WARRANTIES OF MERCHANTABILITY AND FITNESS FOR A PARTICULAR PURPOSE. IN NO EVENT SHALL THE AUTHOR BE LIABLE FOR ANY DAMAGES WHATSOEVER INCLUDING DIRECT, INDIRECT, INCIDENTAL, CONSEQUENTIAL, LOSS OF BUSINESS PROFITS OR SPECIAL DAMAGES.
Even though my applications are freeware, they are not in the public domain, I reserve all rights to them. You may freely distribute copies of my applications as long as you do so in an unmodified form and include all files and documentation that are present in their archives. You may not charge for the distribution of my applications other than a reasonable fee to cover your distribution costs.
MemInfo was one of the first applications I wrote for a mobile device (Compaq Aero 1550 with Windows CE 2.11). The successor of MemInfo is MemInfo.NET and now supports the Pocket PC, CEPC and Smartphone platform! I also have written a desktop version of it long time ago. The desktop version is named WDrives. Some ideas of WDrives are realized in MemInfo.NET!
Generation 1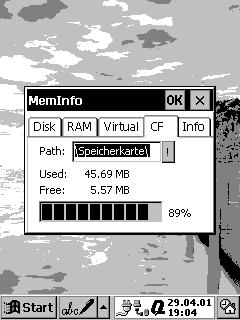 Generation 2